Double TT British Lab Stud Dogs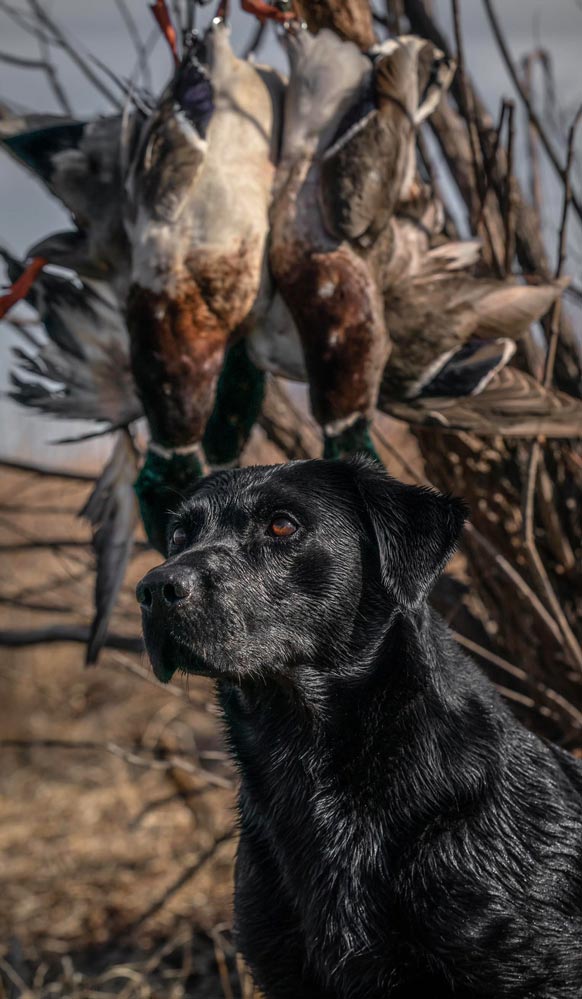 Adam
OFTW HR Glenpatrick Romulus of Killieford
Hips: 1/1

Eyes: Unaffected

DNA: Clear PRA, CNM, and EIC

Pedigree: View Chart
More about Adam
Adam is a muscular dog at around 70 pounds. He is a very easy dog to handle and is wanting to please you. Adam was imported from the UK and is an Open Field Trial Winner titled dog. Adam is very impressive to watch work in the field. He was in 2 Field Trials in the UK and won both of the trials. We are lucky to have Adam here at Double TT. Adam is working as a guide dog for waterfowl an upland when he is not lounging around the house.
FTCH Stud Dogs in the UK used by Double TT
Roy
FTCH Leadburn ViceRoy
Hips: English Hip Score 4/4

Eyes: Unaffected

Pedigree: View Chart
More about Roy
Placed Second in 2008 National Championship
Owned By Billy Steel, Sr. – Leadburn Gundogs
Kiffin
HRCH TTF Craighorn Kiffin MH
Hips: Good, OFA# LR-180746G28M-NOPI

Elbows: Normal, OFA# LR-EL42903M28-NOPI

DNA: Clear PRA, CNM (#LR-CNM09-982-M-PIV), and EIC by parentage

Pedigree: View Chart
More about Kiffin
500 Point Club HRC
Double TT Labradors have been chosen for their hunting prowess to couple with high standards of physical and mental soundness. The British Labrador is renowned and admired the world over, for its:
Natural hunting ability
Good looks
Wonderful temperament
Loving and loyal character
Trainability
Intelligence
Strong companionship
Ability to become part of the family
The finest proven British Labrador blood lines are available through Double TT to the American hunter, providing him or her with a true companion that will be noticed and admired.
AKC - American Kennel Club
CNM - Centronuclear Myopathy
Centronuclear Myopathy is an inherited genetic disorder that causes generalized muscle weakness. Affected dogs may be unable to walk or exercise normally.
EIC - Exercise Induced Collapse
Exercise Induced Collapse is an inherited genetic disorder that causes a loss of muscle control following periods of extreme exercise. Affected dogs can tolerate mild to moderate exercise, but 5 to 25 minutes of strenuous exercise can induce weakness followed by collapse.
FTCH - Field Trial Champion
FTW - Field Trial Winner
HR - Hunting Retriever
HRC - Hunting Retriever Club
HRCH - Hunting Retriever Champion
Int FTCH - International Field Trial Champion
JH - Junior Hunter
MH - Master Hunter
OFA - Orthapedic Foundation for Animals
An OFA number means the hips and/or elbows have been cleared for breeding by the Orthapedic Foundation for Animals. Dogs are cleared for breeding with an Excellent, Good or Fair, Normal ratings. You can visit offa.org to verify that a dog has been cleared.
OFTW - Open Field Trial Winner
PRA - Progressive Retinal Atrophy
Progressive Retinal Atrophy is an inherited eye disease that can cause serious vision problems, including blindness.
SH - Senior Hunter
TTF - Double TT Farms
UH - Upland Hunter