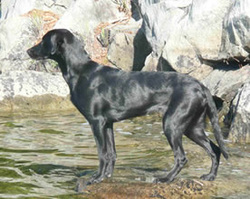 It has been almost a year since I have talked to you. I picked up my dog, Gracie, from you 1 year ago. She is amazing. I have trained many dogs myself, and have never trained such a hungry, thinking animal. Early,I made a cardinal mistake. I shot over the dog as a puppy. Instant Gun Shy!!! I called MANY trainers and researched many publications on Gun Shy dogs. All agreed, the owner MAKES the dog gun shy, it is not born that way. I accept FULL responsibility! Most sites and books said, "forget it , the dog is ruined. There is no hope of recovering after gun shyness." Believe me, Gracie would run away and crawl up under the undercarriage of my suburban up to 1 mile away………She was gun shy! I promised Gracie that I would not give up on her, as she is an amazing dog. One article out of 55 that I read said that if your lab will look you in the eye, you have a one in a million lab, and that lab is capable of anything. I took that to heart. Gracie will stare you down for minutes at a time. She stares directly into your eyes. It is great!!!
I took that to heart. Every day after I left the office or the hospital, I trained her. Tiny steps at a time. I slowly worked in a toy gun then a retriever trainer at 50 yards:each night walking one stride closer. After 9 months, I have reached a mile stone!!! Tonight, I was able to take her out to one of my hunting fields. She sat and stayed ROCK SOLID on my left. I was able to throw 4 dummies and shoot at each after the throw. She did not mind any of the shots. She retrieved the quad multiple times over to hand and I mean…….Perfect!!!! The gun is no longer a hated item. She is also able to do absolute blind quads on only hand signals using the best nose of any lab I have ever had!
I think it is pretty impressive that in spite of my total stupidity (early firing) and producing full gun shyness, that she has trained into a champion status blind quad lab that is so steady to shot and will hold for a week if I asked her to. Wow, what a dog. (what a foolish owner!) As a family dog, she is unreal. My children worship her, and she clearly mothers them. Gentile, attendant and soft………I love to just sit and watch them play and swim together. She has been to Canada twice, the Texas Gulf 5 times, Mid Missouri 2 times and on many other family vacations in the last 12 months. This will be her first hunting season starting Sept 1. I typically hunt 110 to 120 days from Sept. 1 to March 30. She is excited!!!!!!!
I have sent several people to your kennel and most have purchased dogs. They love them. My brother from Columbia Missouri love his yellow…..Maize. Training well! I hope all is well with you all. I just wanted to throw you a line as an update on Gracie. FANTASTIC. The next time someone tells you that a gun shy dog cannot be trained, have them call me. Yes, it takes a daily commitment and slow going, but my girl is awesome!
Have a great day, and here is a picture. I will send you pics throughout the season, as my group of hunters kill 500 + ducks, 500 + dove, geese, and pheasants a year. Come down, and hunt with us. You can see her for yourself!